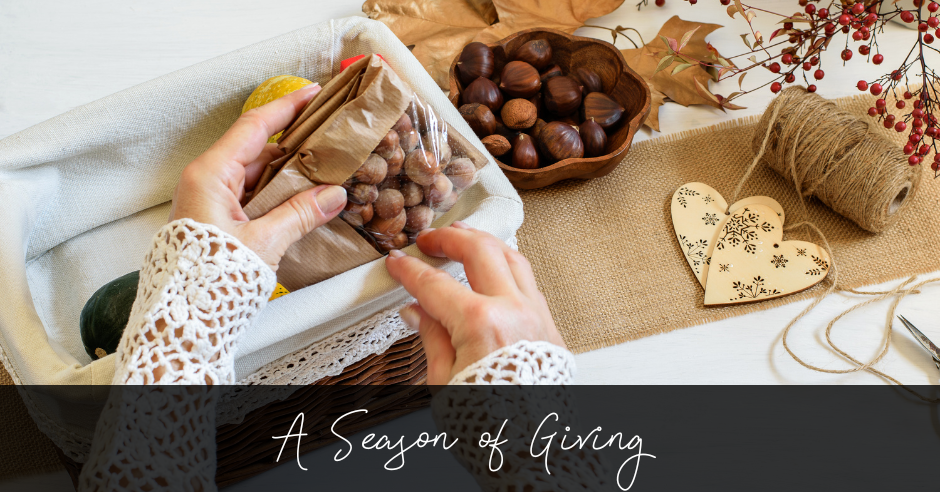 This article is in the September/October Issue 14 of Torah Sisters Magazine.
By Victoria Reid
The autumn feast season is filled with the spirit of giving — giving thanks to God, giving glory to His Name, and giving gratitude for the blessings surrounding you. The ability to give is a gift itself that holds much joy for both the giver and recipient.
In the lineup of feast days, it is a command to rejoice on the feast of Sukkot in particular (Leviticus 23:40, Deuteronomy 16:13-15), and in Acts 20:35, Yeshua is quoted as saying, "It is more blessed to give than to receive." Truly, the happiest people are the ones who give!
One Sukkot tradition I try to keep is inspired by something an acquaintance once gave me. I honestly didn't know her very well, so imagine my surprise when she felt led to mail me a Sukkot package with little gifts to open each day of the feast! It truly blessed me more than words could say. There were little unique trinkets, mostly thrifted and homemade, each wrapped individually. She had notes of encouragement tucked inside, and each day I eagerly opened something new. Because of her sweet generosity and thoughtfulness, I try to do the same and send at least one Sukkot package to someone who doesn't have a local community or is going through a hard time. It's easy to send gifts to friends we love and know — and sometimes I'll send a package to them, too — but I especially try to send one to someone I don't know very well, just like this precious sister did for me so many years ago.
This time of year holds many opportunities for parties and fellowship, with many families opening their homes to welcome other Believers together. Consider blessing them with a sweet hostess gift for being a blessing to your community! Gifts don't have to be large or expensive. It's the thought and kindness of being appreciated that counts. Below are ten hostess gift ideas for the autumn feasts:
1) Whittled Spoon, Tea Towel, Recipe Cards
Purchase wooden spoons (Dollar General carries a pack of 3 for $2.50) and whittle the handles to create a textured grip. Layer a tea towel (either purchased or handmade), recipe cards (you could always include your favorite recipes or leave them blank), and spoon on top of each other and tie with a big bow.
2) A Bottle of Wine and a Wine Stopper
There are many gorgeous DIY projects to create wine stoppers using corks and decorative knobs. Gift one with your favorite bottle of wine!
3) Bread and Bread Cover
Make homemade bread (or purchase an artisan loaf from a local bakery) and wrap it in a handmade bread cover. Then, buy a tea towel and sew on appliqués, lace/ribbon, or decorate with fabric paint/pens to create a custom bread cover for the feast season.
4) Fruit and Nut Basket
Sukkot is a harvest festival, so fruit is a fitting gift! First, purchase a unique basket at the thrift store and fill it with seasonal fruits and homemade spiced nuts. Then, make it even more personal by adding some canned preserves from your summer garden!
5) Flowers in Thrifted Vase
A bouquet of flowers makes for an easy hostess gift. Purchase a unique vase from the thrift store for your hostess to keep. It doesn't have to be a traditional vase! You could use a ceramic pitcher, watering can, old bottles, mason jars, etc.
6) Painted Candles and Matches
Paint a set of taper candles with acrylic paint, and gift them with a book of matches wrapped in scrapbook paper, tied together with a bow. Search online for painting ideas!
7) Granola and Local Honey
Make a batch of homemade granola. Store it in a mason jar and gift it along with some local honey sticks tied to the front of the jar.
8) Stovetop Potpourri
There are plenty of stovetop potpourri combinations online. Find one you like, and make an assembly line to create multiple packets for everyone in your congregation! It makes an inexpensive, lovely autumn gift.
9) Simple Syrup and Locally Roasted Coffee
Simmer 3/4 cup water with 3/4 cup sugar in a saucepan until completely dissolved. Add in 1 tablespoon of vanilla extract after removing from heat. Once cooled, pour it into small airtight bottles. Gift this simple syrup and a bag of locally roasted coffee for the hostess who loves java!
10) Handmade Scarf
Knit, crochet, or sew a lovely scarf to keep your hostess warm on chilly evenings around the campfire.
Physical gifts aren't the only things you can give that will bless those around you. Making people feel seen, heard, and loved doesn't require money or a Pinterest-worthy presentation. Ask God for creative ideas on how to be a blessing to your community this Sukkot! Here are ten out-of-the-box ideas to consider when thinking about becoming a person who gives.
1) Give of your time. Listen to the stories and needs of others without rushing away.
2) Give of your talents. For example, help lead worship or prepare food in the kitchen for a feast gathering.
3) Give of the monetary blessings that God has entrusted to your care. Share what you have without holding back the best for yourself.
4) Give of your schedule. Open your home for other Believers to gather and fellowship together.
5) Give of your words. Speak words of encouragement to someone who looks discouraged.
6) Give of your heart. Allow others access to the real you, without façades, with an opportunity to become true friends.
7) Give of your respect. Think the best of others, even when they have differing opinions from you.
8) Give of your joy. Smile and share the joy you have in Yeshua!
9) Give of your family. Invite those who are single, widowed, or otherwise alone to celebrate the feasts with your family.
10) Give of your love. Let everything you do be motivated by genuine love and unity, without discord or grudgingly.
May your autumn feast season be filled with the Holy Spirit and joy as you put others before yourself!
About Victoria
Victoria Humphrey Reid is an author of multiple books (withlovefromvictoria.com/blog/ebook), a certified Biblical Life Coach and Art Ministry Facilitator, and is passionate about helping women reach their full potential by knowing who they are in Yeshua. She is a wife to an Air Force veteran, boy mama, and lives out of their RV in Southeast Virginia. You can find her online on Instagram @withlovefromvictoriablog or send her an email at victoria.reid@protonmail.com.