About Torah Sisters:
Torah Sisters exists to encourage women who are believers in Yeshua (Jesus) and are pursuing Torah obedience. My goal is to provide articles, memes, links,products and words of encouragement to make your walk stronger and more enjoyable.

All of us come from varying backgrounds, and all of us are at different places in our walks. No matter where you are, you are welcome here. We avoid strife and arguing, but we do not waiver from our understanding of the most important Truths.

The email magazine and website would be nothing without our wonderful contributor writers! Please click the links in their author bios, and learn more about them.
Also, I want you to know that some of the links to products or services you'll see on this website are affiliate links.
About Me
I'll tell you a little about me if you're curious. My name is Amy Guenther and I own and run Torah Sisters. I live in Michigan with my three children whom I homeschool. The Father brought me to Torah in early 2014 after a lifetime walking with my Savior in wonderful Gospel-centered mainstream churches. Since coming to Torah, my walk is deeper than it ever was, and I love Yeshua and His Word more than I ever could have imagined. I have so many flaws and have so much to learn, but I have a desire to live more like Him every day.
I do make a little money here on this website from selling stuff and using affiliate links. I appreciate every precious little penny as I use it to support myself and my kids. (Yes, I'm a single mom.) I also work as a registered nurse for a local hospital.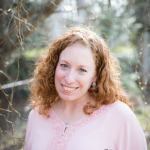 Shalom and blessings,


Amy Guenther
Thanks to Carrie Malik for the photo.
Donations
Some have asked me to put up a donation button. If you'd like to make a donation, you may. Please know that while I pray that I am doing Kingdom work and ministry, I do run Torah Sisters as a business. Donations are to my business and are not tax deductible. Thank you so much!  -Amy
To donate, click the button below. You can donate with your PayPal account, or choose to use your credit card.