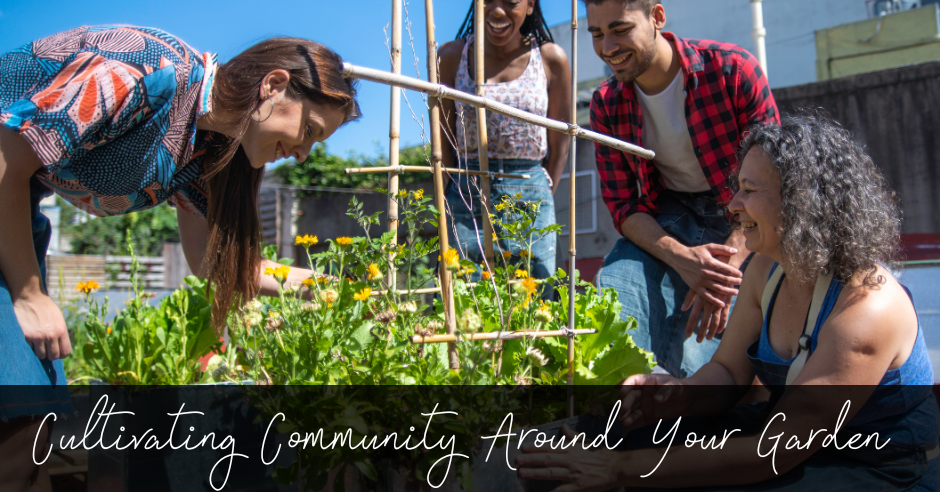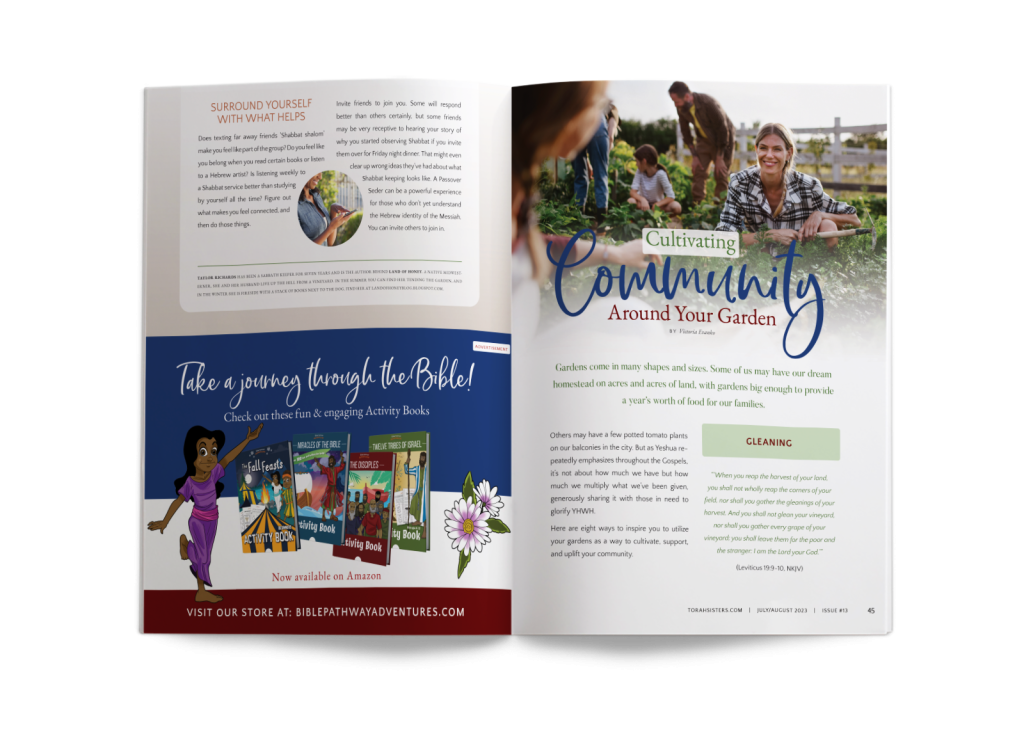 This article is in the July/August Issue 13 of Torah Sisters Magazine.
By Victoria Evanko
Gardens come in many shapes and sizes. Some of us may have our dream homestead on acres and acres of land, with gardens big enough to provide a year's worth of food for our families. Others may have a few potted tomato plants on our balconies in the city. But as Yeshua repeatedly emphasizes throughout the Gospels, it's not about how much we have but how much we multiply what we've been given, generously sharing it with those in need to glorify YHWH.
Here are eight ways to inspire you to utilize your gardens as a way to cultivate, support, and uplift your community.
Gleaning
"'When you reap the harvest of your land, you shall not wholly reap the corners of your field, nor shall you gather the gleanings of your harvest. And you shall not glean your vineyard, nor shall you gather every grape of your vineyard; you shall leave them for the poor and the stranger: I am the Lord your God.'" (Leviticus 19:9-10, NKJV)
While most of us may not have our own homesteads or farms, the principle of gleaning can still be applied to our home gardens! If you know of anyone in your community who may be in need of food, invite them to glean from your garden or land. Have an apple tree that produces so many apples you just can't keep up with the harvest? Allow the beggar in your downtown square to come to glean from your freshly-fallen Fujis. Swimming in hot peppers? Offer your neighbor the chance to pick to their heart's content.
Community Gardens
Many communities (and even public schools!) all over the country are developing community gardens. A community garden is a piece of land in your town with dedicated space for residents to rent a small plot or raised bed for their own personal garden. This is not only a great option for gardeners who don't have yards of their own, but it also offers a way for you to build relationships with residents of your hometown!
Make an exchange.
Have you ever noticed how people want to feel needed? YHWH gave each of us special talents and wants us to use them to support those around us! Try exchanging produce from your garden with a neighbor who can make something out of it in return. Exchange tomatoes with the widow down the road in return for her world-famous pizza sauce. Provide your apartment-dwelling neighbor with a basketful of zucchini in exchange for her delectable zucchini bread. Select dainty flowers for the college student next door in exchange for a hand-crafted flower crown for your daughter. The possibilities are endless! The real beauty of an exchange is that it eliminates any guilt or indebtedness that the receiving party may feel upon receiving your homegrown gift!
Prioritize gardening in your front yard.
By growing beautiful gardens in our front yards, especially in suburban and urban neighborhoods, we open endless possibilities to build community. Not only does your daisy bed beautify your neighborhood and bring joy to those walking by, but it also opens opportunities to converse with them! The next time you are out pruning your roses or quenching the thirst of your petunias, make an effort to say hello and talk with your neighbors as they walk by.
Share your home-grown garden transplants.
One of my favorite ways to generously give to my neighbors and community is to share extra plant starts I've grown. If you start your own seeds indoors in the early spring, consider sowing a few more seeds than you need for your own garden. That way, when your transplants have matured and are ready to transplant outdoors, you can give some away to others to enhance their own home gardens!
Designate a part of your flower bed for bouquets.
I think just about every woman enjoys receiving a bouquet of flowers. Instead of keeping all our flowers for ourselves to enjoy, we can spread more joy by cutting some flowers from our garden to share with others. Place some small bouquets in mason jars, and tie an encouraging verse of Scripture around the neck of the jar. Try dropping by your local senior living center and bringing a few bouquets to residents needing hope and inspiration. Or drop one off to your local shop-owner to brighten their day (and shop!).
Invite your neighbors into your garden.
Do your children have friends in the neighborhood? With permission from their parents, set up a playdate in which their friends can join your family in tending to and harvesting from your home garden. Better yet, invite the child's parents to join in the fun. And don't forget to let them take home some freshly-cut flowers or sugar snap peas for an afternoon snack!
Hire the boy next door.
Just about every garden is surrounded by, well, grass! And while the grass isn't exactly part of your garden, it still needs to be maintained so that your garden remains visible and attractive! Why not consider hiring the teenage boy next door to mow your lawn this summer? Not only are you helping him build a business and supporting your local economy, but your family can also build a relationship with him over the course of his weekly visits. Brownie points if you send him home with a plate of brownies as a reward for his hard work!
YHWH'S creation has a way of inspiring us and bringing us together. Regardless of where you live or what you have to work with, I truly believe we can all cultivate community around our gardens!
About Victoria Evanko
Victoria is very passionate about her faith in Yeshua and takes her role of homemaker very seriously. She has been married for almost nine years to her amazing husband, and is blessed with three sons ages four and under, dubbing her a true "boy-mama". She has developed a love for gardening and all things preserving, cooking from scratch, and freshly-milled bread. You can find her on Instagram @her.willing.hands.