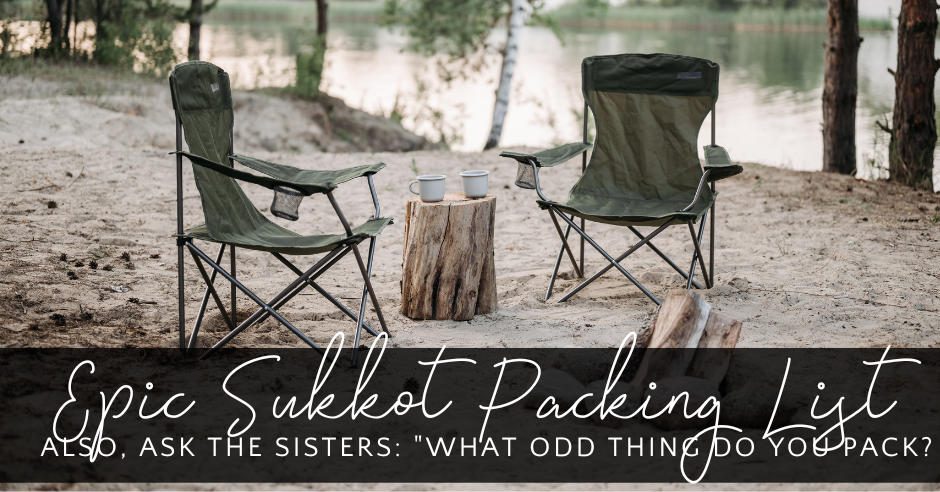 I have made an EPIC Sukkot packing list that you can download and print! Click here to get it.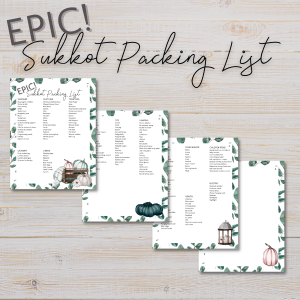 I want to give a big "thank you" to Alex Henderson (husband of Rachel Henderson, a Torah Sisters Magazine contributor) and Anne Elliott (of Homeschooling Torah and AnneElliott.com) for contributing to this list! They are two of the most organized people I've ever met in my life. I also contributed to this list, but not because I'm organized. Rather, because I hate to be without. LOL We all hope you have found it helpful!
Scroll down for bonus packing ideas!
Here's a video of me discussing Sukkot, how I do it, and the rationale behind some of these items.
BONUS!
I also asked the Torah Sisters on Facebook, "What is the most off-the-wall, odd thing you pack for Sukkot, but you're always glad you packed it?"  Here are their answers! Some are very epic! LOL
We always bring a hoe. We call it a 'multi purpose camp tool.' It's great for stirring the fire or moving hot logs around. We've used it to retrieve things from trees (when kids threw things up there). And it very conveniently hangs from a branch on a nearby tree. -Deborah
Ice Maker! Others thought it was over the top, ridiculous until they wanted ice in their drinks. Also kept us from going to buy ice for our coolers as much as we usually did. -Melissa
My Keurig coffee pot and the pods! Can't do without that cup of coffee! -Barbra
3M hooks, Chirogun/massager, Twinkle lights, Leaf blower (for keeping fires going) -Alexi
Solar path lights! I put some around the perimeter of our site and make sure to put them near any tricky paths or tree roots. We love to stay up late into the evening visiting around campfires and these are so helpful, not just to us but for others as well. -Christy
My 4-wheeler, a tree swing for the kids, and ALL of my dogs. Even when we are tent camping. -Amy
A sewing kit. I have had to sew a string or two back onto my tent from people tripping over strings. And glow sticks to put around said strings so people know they are there. -Jami
Painters drop cloths – makes a large affordable cozy and quiet rug for inside the tent. We also use one as an insect-preventative flooring solution for the screened-in dining tent. And they're easy to launder and fold for the next trip! -Janelle
Propane powered on demand water heater with a camping privacy tent. Easily hooks up to a hose and now you have a shower. -Sarah
Dryer lint to start a camp fire. -Catharina
I want to bring my sheep to milk. -Natalie
We always want to bring a few chickens for fresh eggs! -Margot
We bring a popcorn machine. When gathering around the campfire to read scriptures, the kids really enjoy snacking! -Lewella
I brought a shower caddy- super useful for hanging on a tree branch to dry dishes and cups, especially when there's a lack of table space! -Erica
Super glue, you never know when you may need it. -Carlene
I keep glow in the dark bracelets and necklaces to put on the kids at night, so we can find them when they are playing away from the campsite. -Kristin
Baby wipes for the kitchen bin. -Elizabeth
Large puppy pee pads… for the campground showers when my girls were little. 😅 They didn't like shower shoes and it gave them a clean, dry place to get dressed on and they didn't slip. They have sticky tabs on one side that doesn't let water in and soft white cotton on the other. Then peel up when done. You can either toss or let dry for the next time. So many in our group loved the idea and asked if they could be left in there. -Kristin
Pool noodles for tie downs on tent. So others don't trip on them. -Sally
Small child size rack to use in the ground before setting up the tent. Good to clean out area of the fire pit as well. Urinal for just in case. -Kathy
Flip flops for the shower. -Robin