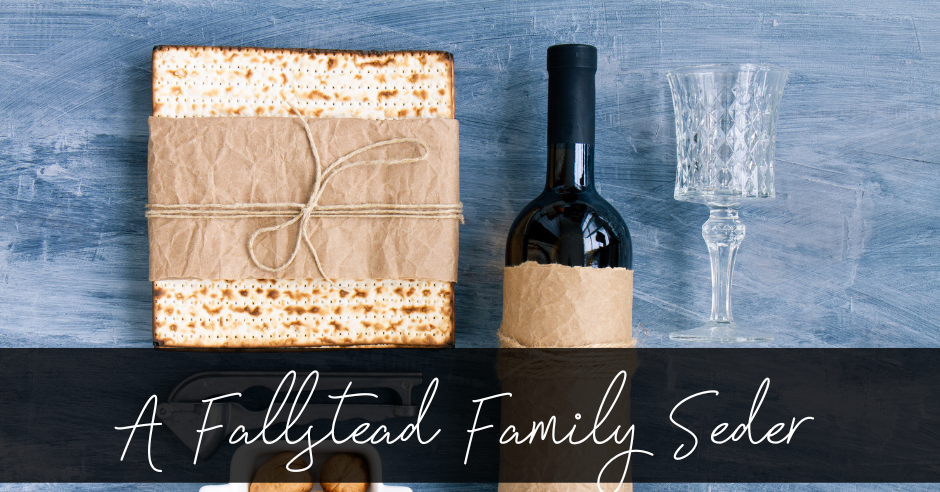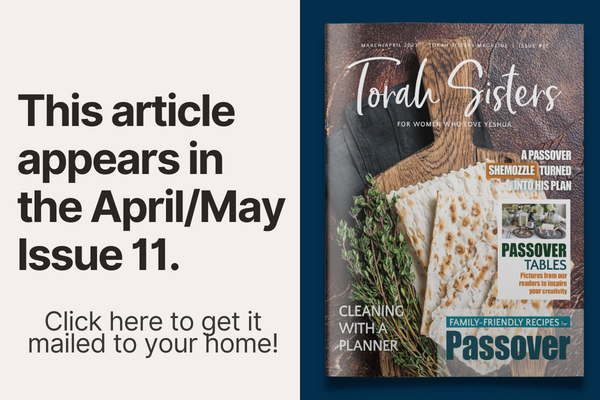 This is a guest post by Tina Fallstead.
You can find this article in the March/April Issue 2023 Issue 11 of Torah Sisters Magazine.
Have you refrained from hosting a Passover Seder because it looks too complicated? Then, I would like to encourage you to try it by sharing a few tips and tricks I have used over the years. Passover Seders do not have to be daunting to prepare or boring to sit through. You can have a fun and meaningful Passover Seder with careful planning and without unnecessary stress.
Make a plan.
The first thing I recommend you do is to determine how many people you can comfortably accommodate. Then, once you have that information, make your guest list. Remember that just because you can seat twenty people doesn't mean you have to. Choose the number of guests that feels manageable for you.
Once you have established who your guests are, you can think about your table setup and your menu.
Make your table fun for the young and the young at heart.
Tailor your seder to your guests. For instance, your adult guests may appreciate your Aunt Sonya's bone china that she brought to America when she left Germany. The little children, not so much. If you are hosting children, try to make the décor engaging and fun for them. For example, consider making edible plagues or using objects to represent them. Tell a portion of the exodus story with puppets or by acting out a short skit. Torah Sisters has fun plague downloads and other items you may find helpful, including previous issues of Torah Sisters Magazine.
Each year I like to find a small item that I can use as both décor for each place setting and a small take-home gift for my guests. Over the years, I have done silly straws with frogs attached, squeaky frog toys, backflipping frogs, and wind-up walking frogs (I love using frogs!) for these take-home gifts.
I like to have fun afikomen prizes for the children and the adults. Some examples: small Bible story books, craft kits, plush toys (remember, frogs), mini-games and puzzles, etc. You can find many such items at your local dollar store, but my favorite is Oriental Trading online. If you do not have children at your seder to search for the afikomen, do not underestimate the ability of your adult guests to become very childlike when given the opportunity and the right encouragement to do so. Who doesn't like permission to play a little bit?
Seder tray, or not.
You can find a wide variety of seder trays ranging from low-cost disposable to very expensive family heirlooms. Don't have a tray? Not to worry. Use a plate, a series of small bowls, a wooden board, or anything that you like. Pinterest is full of creative ideas. Not sure what to include on your seder tray? Your Haggadah will tell you, or an internet search can help too.
Which Haggadah?
There are several Haggadahs available for free and purchase. They vary from wordy and formal to short and a bit comical. When choosing a Haggadah, consider your guests.
Even the simplest Haggadah takes a fair bit of time to get through. We put light snacks on our seder table to keep the rumbly tummies at bay. The guests are free to nibble throughout the readings. Our go-to items are mixed nuts, a variety of olives, cheese slices, turkey pepperoni, and smoked salmon dip. We have extra matzah on the table for use with these items.
Fallstead Family Salmon Dip
One package of cream cheese at room temperature
½ cup finely shredded three-cheese blend
½ – 1 tablespoon of powdered garlic
½- 1 cup smoked salmon, flaked
For the best flavor, prepare one to two days before serving. Place all the ingredients in a mixing bowl and combine using a fork or an electric mixer. Move it into an airtight container and keep it refrigerated until you are ready to serve.
Guest participation adds to everyone's enjoyment.
We like to keep everyone engaged by having them participate in the Haggadah readings. We note the areas of our Haggadah that we want the guests to read and go around the table, offering the opportunity. If you do this, please remember that not everyone is comfortable reading aloud. I suggest letting people know in the very beginning that they are free to pass on their turn to read.
Another simple way to include your guests is to say 'yes' when a guest asks if they can bring anything for dinner. Plan the easily transportable dishes that guests who wish to bring something to the table can contribute. Cold salads, fruit and veggie trays, beverages, and desserts are all great options. This will not help you as the primary host have less stress, but it will fill the cup of your guests who are naturally born hospitality machines!
What's for dinner?
Before planning your menu, it is a good idea to consider two things. First, who are your guests, and how much time do you have to prepare? How well do you know your guests?
Does anyone have food allergies or other dietary restrictions? I like to ask my guests to be sure they can eat what is served. One year I did not do this, and after a few spoonsful of charoset, a guest mentioned that they were allergic to apples! Thankfully their allergy was mild and quickly addressed with Benadryl.
Are your guests older, younger, or perhaps a mixture? Consider the type of food that will be appreciated and pleasing to the guest's palate. Adults may enjoy your fancy new recipe, but the kiddos will appreciate something simple and familiar.
How much time do you have to prepare?
Go easy on yourself. Don't expect more output than your actual schedule allows. Instead, choose a menu that fits both your guests and your availability. For example, consider including premade items from the deli, such as rotisserie chicken, roast beef, cold cuts, or premade salads. Dishes you can make ahead, freeze then reheat the day of your seder are also good options.
Disposable tableware is not against the rules.
Another way to do your future self a favor is to use paper plates, plastic cutlery & cups. You can find some charming disposable tableware these days to match almost any theme you can choose.
Enjoy your guests.
My final advice is to relax and enjoy the event; however, it turns out. Even a ruined main dish can be handled with laughter and become a fun memory shared for years. Remember that genuine hospitality is good hospitality, and if your guests leave feeling that they were genuinely welcome, you have had a successful event.
Tina Fallstead is a wife and mother whose passion is to enable other women to become all that the Father has created them to be. She and her husband are blessed to lead a congregation in their community called The Way of Life Ministries. Tina has recently launched a women's ministry called Geulah Gals, focused on 'Hastening the Geulah through serving the community alongside our sisters.