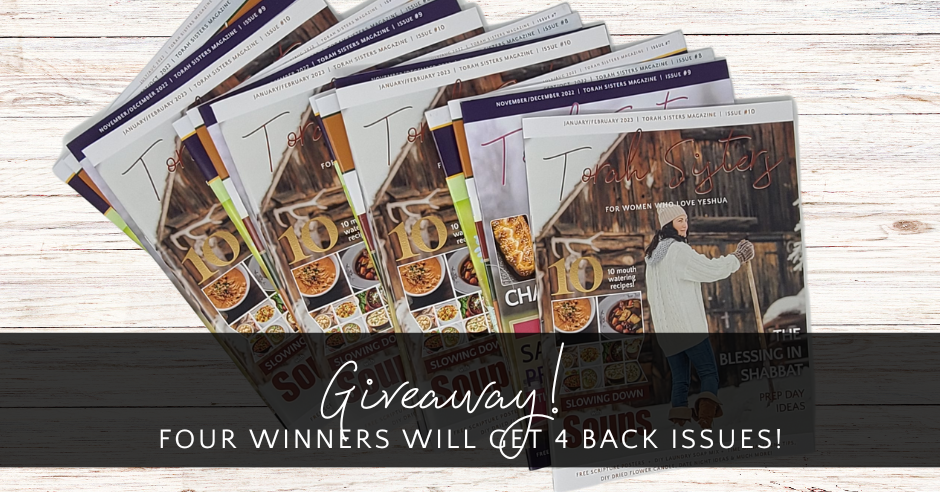 Four winners!
I'm giving away back issues of Torah Sisters Magazine to four winners! Each winner will get 4 PRINTED magazines! The winners will get one of each of the following back issues:
The contest ends on Monday, February 20, 2023 at 11:59 pm ET. I'll announce the winners here on this post sometime next week.
One entry per person. Must be in the United States to win the printed magazines. If you win and are from outside the US, I'll send you the digital pdf files instead, and then I'll choose another US winner. The winner will be contacted via email and must respond within 48 hours with their mailing address. If a winner does not respond within 48 hours, I'll choose another winner. Play nice and enter with just one email address.
Click here to subscribe and get the current Spring Feast issue of Torah Sisters Magazine!
Follow the instructions in the box to enter.
These are the four back issues each winner will get.
More About Torah Sisters Magazine
Click here to subscribe to the current Spring Feast Issue of Torah Sisters Magazine.
The current issue of Torah Sisters Magazine has  so much encouragement, inspiration, ideas and more for the Spring Feasts! Enjoy these pictures and videos of what's inside the current issue. The contest is for back issues, but I want to be sure you know about the current issue, too!