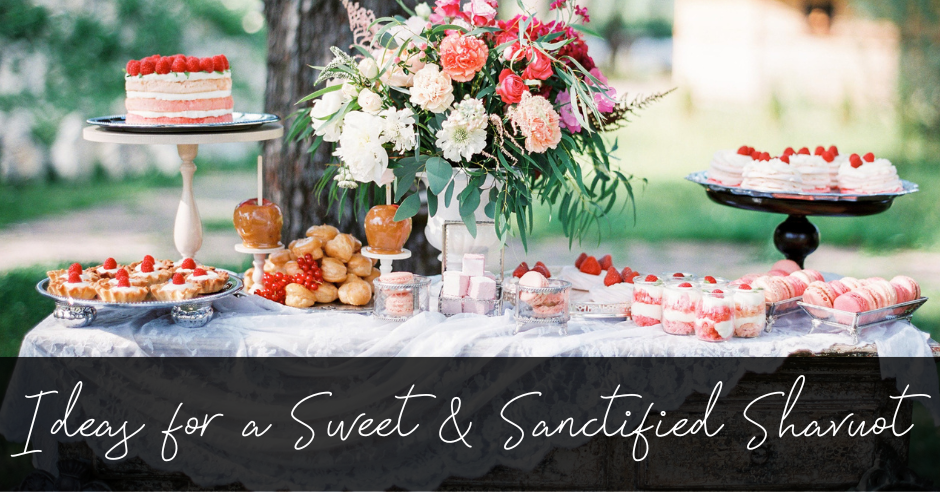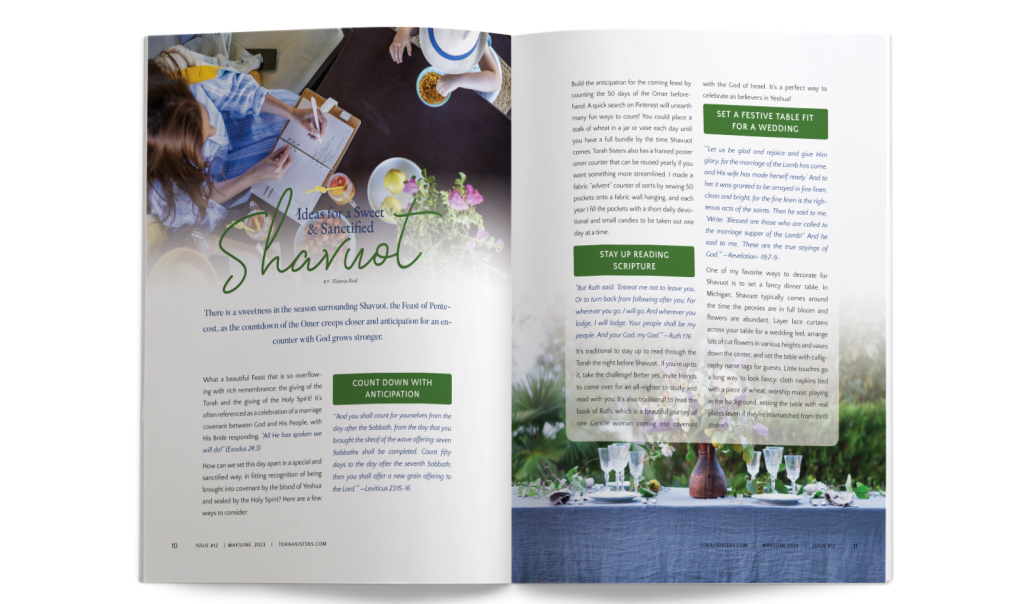 This article is in the May/June Issue 12 of Torah Sisters Magazine.
Guest post By Victoria Reid
There is a sweetness in the season surrounding Shavuot, the Feast of Pentecost, as the countdown of the Omer creeps closer and anticipation for an encounter with God grows stronger. What a beautiful Feast that is so overflowing with rich remembrance: the giving of the Torah and the giving of the Holy Spirit! It's often referenced as a celebration of a marriage covenant between God and His People, with His Bride responding, "All He has spoken we will do!" (Exodus 24:3)
How can we set this day apart in a special and sanctified way, in fitting recognition of being brought into covenant by the blood of Yeshua and sealed by the Holy Spirit? Here are a few ways to consider:
1 Count down with anticipation.
"'And you shall count for yourselves from the day after the Sabbath, from the day that you brought the sheaf of the wave offering: seven Sabbaths shall be completed. Count fifty days to the day after the seventh Sabbath; then you shall offer a new grain offering to the Lord.'" —Leviticus 23:15-16
Build the anticipation for the coming feast by counting the 50 days of the Omer beforehand. A quick search on Pinterest will unearth many fun ways to count! You could place a stalk of wheat in a jar or vase each day until you have a full bundle by the time Shavuot comes. Torah Sisters also has a framed poster omer counter that can be reused yearly if you want something more streamlined. I made a fabric "advent" counter of sorts by sewing 50 pockets onto a fabric wall hanging, and each year I fill the pockets with a short daily devotional and small candies to be taken out one day at a time.
2 Stay up reading Scripture.
"But Ruth said: 'Entreat me not to leave you, Or to turn back from following after you; For wherever you go, I will go; And wherever you lodge, I will lodge; Your people shall be my people, And your God, my God.'" —Ruth 1:16
It's traditional to stay up to read through the Torah the night before Shavuot . If you're up to it, take the challenge! Better yet, invite friends to come over for an all-nighter to study and read with you. It's also traditional to read the book of Ruth, which is a beautiful journey of one Gentile woman coming into covenant with the God of Israel. It's a perfect way to celebrate as believers in Yeshua!
3 Set a festive table fit for a wedding.
"'Let us be glad and rejoice and give Him glory, for the marriage of the Lamb has come, and His wife has made herself ready.' And to her it was granted to be arrayed in fine linen, clean and bright, for the fine linen is the righteous acts of the saints. Then he said to me, 'Write: 'Blessed are those who are called to the marriage supper of the Lamb!'' And he said to me, 'These are the true sayings of God.'" —Revelation‬ ‭19‬:‭7‬-‭9‬
One of my favorite ways to decorate for Shavuot is to set a fancy dinner table. In Michigan, Shavuot typically comes around the time the peonies are in full bloom and flowers are abundant. Layer lace curtains across your table for a wedding feel, arrange lots of cut flowers in various heights and vases down the center, and set the table with calligraphy name tags for guests. Little touches go a long way to look fancy: cloth napkins tied with a piece of wheat, worship music playing in the background, setting the table with real plates (even if they're mismatched from thrift stores!).
4 Don't come empty-handed.
"'Three times a year all your males shall appear before the Lord your God in the place which He chooses: at the Feast of Unleavened Bread, at the Feast of Weeks, and at the Feast of Tabernacles; and they shall not appear before the Lord empty-handed.'" —Deuteronomy‬ ‭16‬:‭16‬
My family has a tradition for the Shavuot service in our community. Everyone brings a small item that represents something they're most thankful for during the past year. Perhaps it's a toy car to represent safety during a wreck, or a pacifier to represent the birth of someone's first child. All the items are collected in a basket, and during the service those items will be taken out one by one. Each person has an opportunity to testify of God's goodness when their item is held up, and it's a beautiful time of gratitude and praise.
5 Milk and honey foods.
"'You shall write on them all the words of this law, when you have crossed over, that you may enter the land which the Lord your God is giving you, 'a land flowing with milk and honey,' just as the Lord God of your fathers promised you.'" —Deuteronomy‬ ‭27‬:‭3‬
The keeping of God's Covenant was the threshold to entering the Promised Land, flowing with milk and honey. It's traditional to eat dairy foods during Shavuot. You can go fancy with homemade cheesecake or super simple with store-bought shortcake topped with whipped cream and berries. There's always the idea of hosting an ice cream sundae bar for zero prep work!
6 Donate to foreign missions.
"Now when they heard this, they were cut to the heart, and said to Peter and the rest of the apostles, 'Men and brethren, what shall we do?' Then Peter said to them, 'Repent, and let every one of you be baptized in the name of Jesus Christ for the remission of sins; and you shall receive the gift of the Holy Spirit. For the promise is to you and to your children, and to all who are afar off, as many as the Lord our God will call.'" —Acts‬ ‭2‬:‭37‬-‭39‬
The beauty of the first Shavuot after Yeshua rose from the dead is that everyone in Jerusalem heard the Gospel in their own language. What a beautiful way to commemorate this occurrence by donating Bibles in other languages! Do your own research to find an organization you would like to partner with. Two options to consider are Voice of the Martyrs who distribute Bibles to high-risk countries (https://www.persecution.com/bibles/) and ZAMF, who distribute Bibles in Africa in growing the Messianic community there with the Gospel (https://www.zamf.org/the-judaical-store/donations/paypal-donations/).
7 Gift candles and wind chimes.
"And suddenly there came a sound from heaven, as of a rushing mighty wind, and it filled the whole house where they were sitting. Then there appeared to them divided tongues, as of fire, and one sat upon each of them." —Acts‬ ‭2‬:‭2-3
Make or purchase a little gift for the families in your community. Candles can represent the tongues of fire that came down upon the apostles, and wind chimes can represent the Holy Spirit that is often referenced as blowing like the wind.
8 Listen to worship music in other languages.
"And they were all filled with the Holy Spirit and began to speak with other tongues, as the Spirit gave them utterance." —Acts‬ ‭2‬:‭4‬
Look up your favorite worship songs in various languages and create a playlist! God's Feast Days were not given to be kept in isolation. Even if you have no physical community nearby to connect with, you'll be reminded through this activity of how broad the family of God is!
9 Recall the Fruits of the Spirit you want to cultivate.
"But the fruit of the Spirit is love, joy, peace, longsuffering, kindness, goodness, faithfulness, gentleness, self-control. Against such there is no law." —Galatians‬ ‭5‬:‭22‬-‭23‬
Think back over the past year. What fruits of the Spirit did you lack in? Which did you see growth in? Take time to journal your wins and losses, and write out a prayer asking for God's strength to grow more in His Spirit.
10 Focus on unity.
"When the Day of Pentecost had fully come, they were all with one accord in one place." —Acts‬ ‭2‬:‭1‬
Too often, the Feast Days are shrouded in division and petty disagreements. Make it your aim to focus on the true heart of Shavuot, being brought into covenant with God as a community, living in unity through the power of the Holy Spirit. If someone wants to argue theological matters, unless it is a clear salvational issue, politely decline to engage. Pursue peace, foster love, and exude joy!
Victoria Humphrey Reid is an author of multiple books (withlovefromvictoria.com/blog/ebook), a certified Biblical Life Coach and Art Ministry Facilitator, and is passionate about helping women reach their full potential by knowing who they are in Yeshua. She is a wife to an Air Force veteran, boy mama, and lives out of their RV in Southeast Virginia. You can find her online on Instagram @withlovefromvictoriablog or send her an email at victoria.reid@protonmail.com.