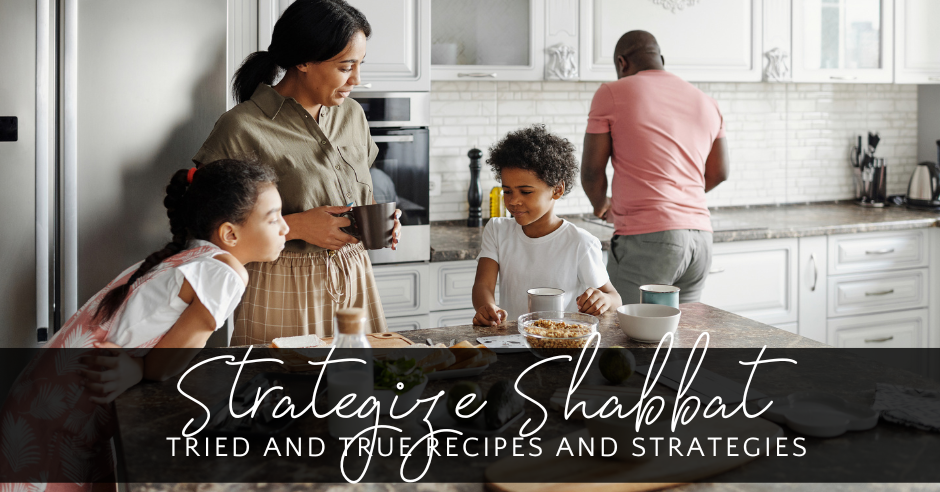 This is a guest post by Rachel Henderson.
NOTE: This article is also in the November/December 2022 Issue 9 of Torah Sisters Magazine. Get it quick while it's still available in print!
Shalom, ladies! In my most recent article, I detailed some key tips that I have found to be useful when Shabbat doesn't feel so restful. Specifically, when you have many littles underfoot or when you work outside the home. Either way, it can be a challenge to get concentrated time in the kitchen. One of the tips I suggested in the article is to simplify. Another is to strategize. To those ends, I wanted to offer a follow-up with some of my own, tried and true recipes and strategies to help in very real and practical ways.
1. Use Thursday.
Typically, my list on Thursdays looks like this:
– do any final laundry/bathroom wipe-downs. I like to leave Friday free of all cleaning except the kitchen to wipe down and a final main living space vacuum.
– do one meal prep item on Thursday afternoon/evening. Usually, this is dessert because they keep well. Other times it is to cut up any veggies that will go into dinner or Saturday's breakfast. At the very least, on Thursday before you go to bed, set yourself up for success by laying out dry ingredients for the food you'll be making Friday.
– If we are headed to fellowship on Sabbath, I pack the kid's extra set of clothing/diapers and their bag of activities. Put them in the car and this will be a huge game changer for getting out the door in a peaceful manner on Saturday. An additional bonus is that the kids won't have seen the things in the bag for a few days and it may earn you a few extra minutes to listen to the reading on Shabbat!
2. Visualize everything you have to do on Saturday morning.
On Friday, do as much of it as you can, even if it seems insignificant. It isn't that you have one gigantic task on Friday/Saturday that feels overwhelming; it's that you have about a million tiny tasks – and lots of sweet little people who will undo much of it during the day. Therefore, any small wins feel like a big win on Prep Day! This is also a great way to get your kids involved. 2 year-olds need a job to do and carrying the water bottles to the counter to be filled and then out to the car is right up their alley. This will help them feel they are part of the preparation for Shabbat as well. Here are some examples of things I try to get done on Friday:
– fill everyone's water bottle and gather on the counter
– lay out the little one's clothing for the next day (sometimes I lay my own out too)
– set the coffee up so all I have to do is press 'go.'
– if I haven't packed extra kid's clothes, non-perishable snacks, or their activity bag now is the time!
– Put any extra winter coats or clothing you want to take with you in the car now.
– returning a left-behind coffee cup from last Shabbat to a friend at fellowship? Ask yourself, what do I want to make sure to bring and have the kids use some of that awesome energy to make these trips to the car for you.
3. Create a Shabbat capsule recipe
– What are your family's favorites? This is not the time to reinvent the wheel. I will leave a handful of my quickest, easiest, and most loved Shabbat recipes below to get the ideas flowing for you.
– Compile a list of 5 recipes for breakfast, lunch, dinner, and dessert. When I first started prepping for Shabbat I quickly realized it's a whole 24-hour period! I made a gourmet dinner but failed to recognize that I needed breakfast, lunch, and another dinner to boot. My specific tips for each of these meals are below.
– Breakfast: The best gift I can give myself is to be able to sleep a bit later and know that breakfast is largely taken care of. It feels like a luxury and I think that is what the Father intends for us. So, anything you can prep on Friday and throw in the oven Saturday morning is the way to go. Think egg casseroles, overnight french toast, quiche, pre-made waffles you can pop in the toaster, and if all else fails cereal or yogurt with granola is simple and well-loved.
– Lunch: ask yourself what your plans are for this Shabbat. For our family, each Sabbath is unique. So I ask myself on Friday, what will lunch look like tomorrow? Staying home to reconnect as a family lends itself to sandwiches, cut up fruit and veggies, and snacks. Heading to a fellowship potluck calls for soup in a crockpot and likely snacks in baggies for the kids.
– Dinner: My number one tip for making Shabbat prep not overwhelming is to make enough dinner on Friday evening to reheat on Saturday evening. Why make two dinners when you can just make more of one? Again, there are some simple, winning recipes below for you.
– Dessert: One way we try to make Sabbath unique is that typically we only have dessert on Friday night. Which is great… but then that adds one more thing to my list on Friday. So, dessert is almost always super simple and requires zero or very little on my part. If you're feeling overwhelmed by all the food prep don't go overboard on an extravagant dessert. A bowl of ice cream with raspberries and a calm, cheerful mom beats lemon meringue pie and grumpiness any day.
As an overall point, I have found that it isn't complexity that makes Shabbat feel special. For me, it takes paring down, preparation, and a few intentional finishing touches. Plain pasta and sauce feel special with a little chopped parsley and freshly grated cheese. Regular white chicken chili feels basic until it is topped with avocado, sour cream, and tortilla chips to dunk. Fruit salad doesn't feel like a dessert until there's a mound of whipped cream gracing it. Sabbath doesn't have to be overwhelming and I do my best to not enter in feeling exhausted. Pare down, prepare, drizzle a little chocolate sauce on some ice cream and enjoy. Yah wants you to!