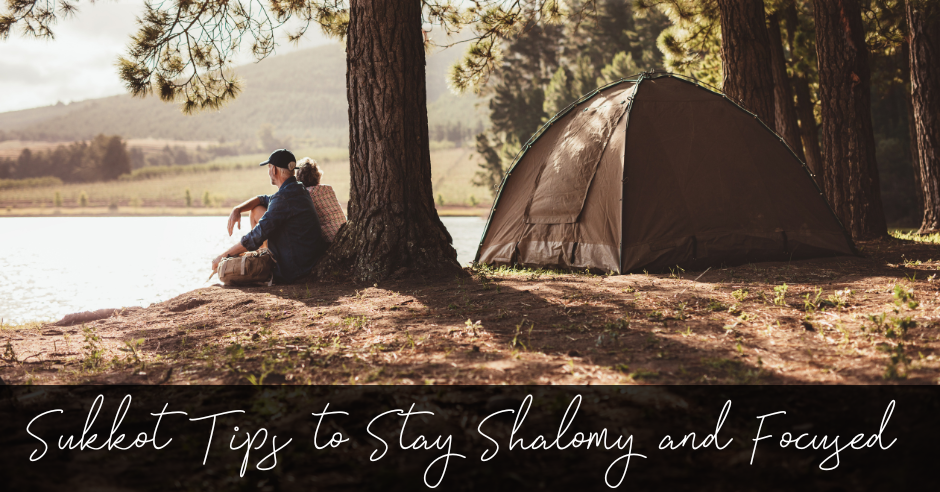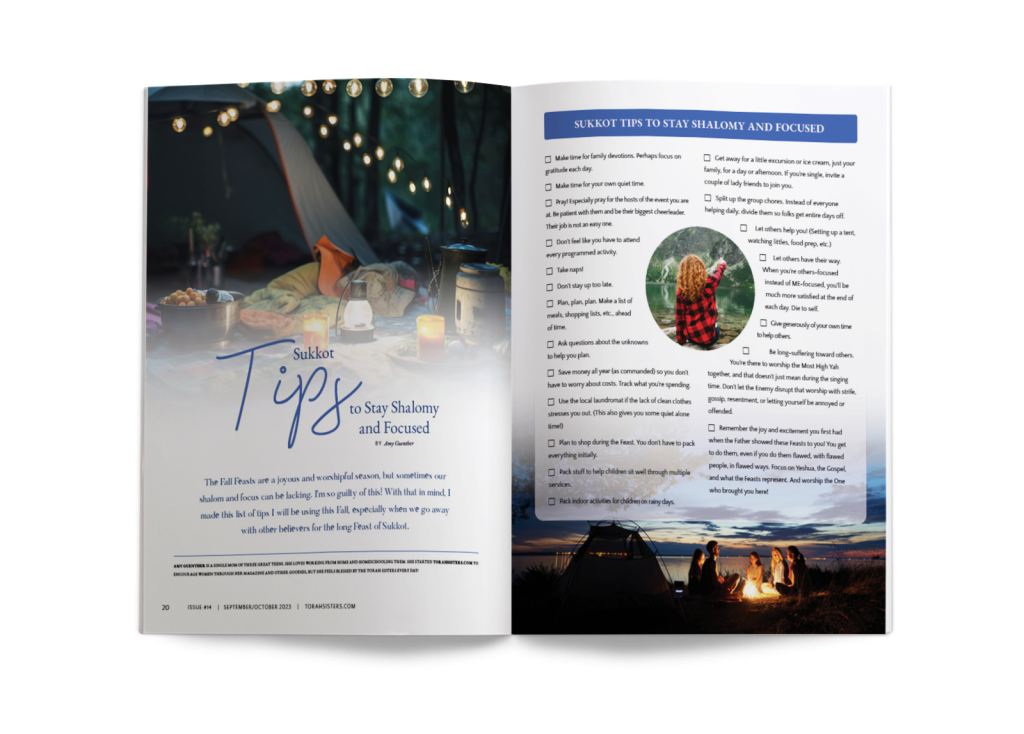 This article is in Issue 14 from September/October 2023.
By Amy Kay Guenther
The Fall Feasts are a joyous and worshipful season, but sometimes our shalom and focus can be lacking. I'm so guilty of this! With that in mind, I made this list of tips I will be using this Fall, especially when we go away with other believers for the long Feast of Sukkot.
Make time for family devotions. Perhaps focus on gratitude each day.
Make time for your own quiet time.
Pray! Especially pray for the hosts of the event you are at. Be patient with them and be their biggest cheerleader. Their job is not an easy one.
Don't feel like you have to attend every programmed activity.
Take naps!
Don't stay up too late.
Plan, plan, plan. Make a list of meals, shopping lists, etc., ahead of time.
Ask questions about the unknowns to help you plan.
Save money all year (as commanded) so you don't have to worry about costs. Track what you're spending.
Use the local laundromat if the lack of clean clothes stresses you out. (This also gives you some quiet alone time!)
Plan to shop during the Feast. You don't have to pack everything initially.
Pack stuff to help children sit well through multiple services.
Pack indoor activities for children on rainy days.
Get away for a little excursion or ice cream, just your family, for a day or afternoon. If you're single, invite a couple of lady friends to join you.
Split up the group chores. Instead of everyone helping daily, divide them so folks get entire days off.
Let others help you! (Setting up a tent, watching littles, food prep, etc.)
Let others have their way. When you're others-focused instead of ME-focused, you'll be much more satisfied at the end of each day. Die to self.
Give generously of your own time to help others.
Be long-suffering toward others. You're there to worship the Most High Yah together, and that doesn't just mean during the singing time. Don't let the Enemy disrupt that worship with strife, gossip, resentment, or letting yourself be annoyed or offended.
Remember the joy and excitement you first had when the Father showed these Feasts to you! You get to do them, even if you do them flawed, with flawed people, in flawed ways. Focus on Yeshua, the Gospel, and what the Feasts represent. And worship the One who brought you here!