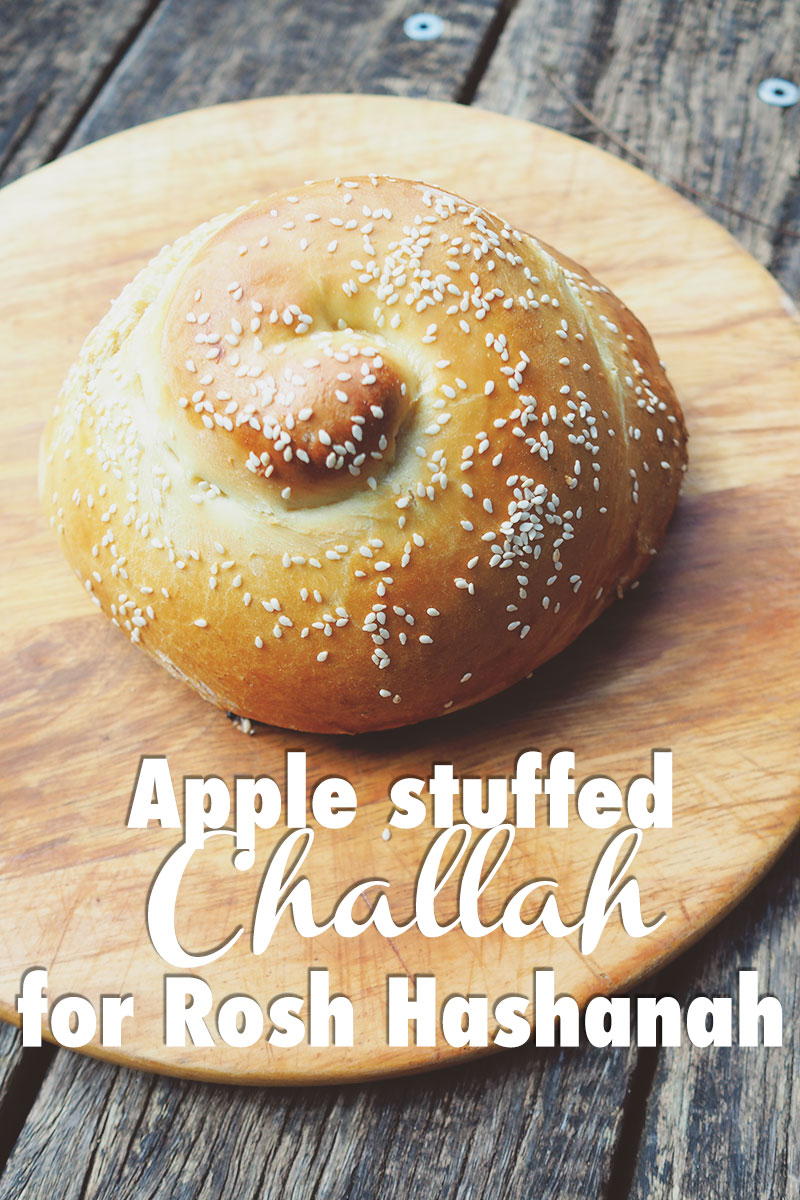 This is a guest post by Talia Carbis. Visit her blog at http://carbis.com.au/
Hands up if you're already starting to think about the Fall Feasts? I am! They are my favourite holidays. The whole season is filled with such joy and my kids look forward to it so much.
It's traditional at Rosh Hashanah (also known as Feast of Trumpets or Yom Teruah), to have a round challah to signify the cyclical nature of the years, and of life itself. Another reason for having round challah is so it looks like a crown which reminds us that G-d is king of the world!
There are lots of ways to make round challah, but today I wanted to share with you an apple stuffed round challah. Yum! This challah also uses honey instead of sugar – another traditional item for this time of year!
Ingredients:
1 tsp. sugar
1/2 cup warm water
2 tsp yeast
1/2 cup coconut + olive oil blend
1/3 cup honey (or to taste)
¼ cup extra water
2 tsp. salt
2 eggs
3 1/2 to 4 cups flour
sesame seeds
1 egg beaten with 1 tsp. water
2 grated green apples
Instructions
1. Dissolve sugar in 1/2 cup warm water in a large mixing bowl. Sprinkle yeast on top and let stand for 10 minutes. Stir to dissolve.
2. Combine with oil, warm water, sugar, salt, eggs and half of the flour. Use the dough attachment on your mixer and mix well. Add the rest of the flour. Dough should be sticky. Cover dough and let rest for 10 minutes. Knead for 10 minutes, adding flour as needed (it should still be a bit sticky though).
3. Round up in a greased bowl. Cover and let rise in a warm place until double in bulk, about 1 1/2 to 2 hours. Punch down, cover and let rise again until double, about 45 minutes.
4. Take your dough and roll it out into a long rectangle.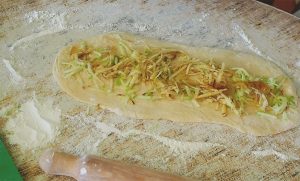 5. Grate your apples, and layer then up onto your rectangle of challah dough (feel free to add some cheeky extra honey now if you want! Some nuts make a great addition also.). Roll your dough up and use some egg wash to join the dough together on the side.
6. With the join underneath, wrap your dough around in a spiral shape (like a snail my kids say!). Cover with more egg wash, and sprinkle with some sesame seeds and/or flaked almonds.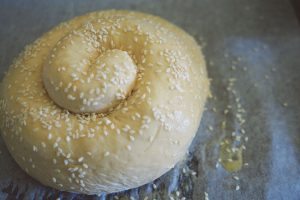 7. Bake is a low oven (160ºC or 320ºF) for 40mins, or until beautiful golden on top, and cooked through. Enjoy!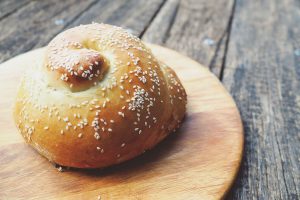 This was a guest post by Talia Carbis. Visit her blog at http://carbis.com.au/